The all-in-one video solution

for customer support teams

Screen recordings, live video calls, and video sharing straight from your ticketing system - no downloads for agents and customers needed.
Trusted by customer support teams from startups to enterprises
Screen Recordings
Let Customers Show
Their Issues with Video
It can be difficult and time consuming to describe a technical issue in writing. With screen recordings you can offer troubleshooting steps right away, leading to faster response time and a better support experience.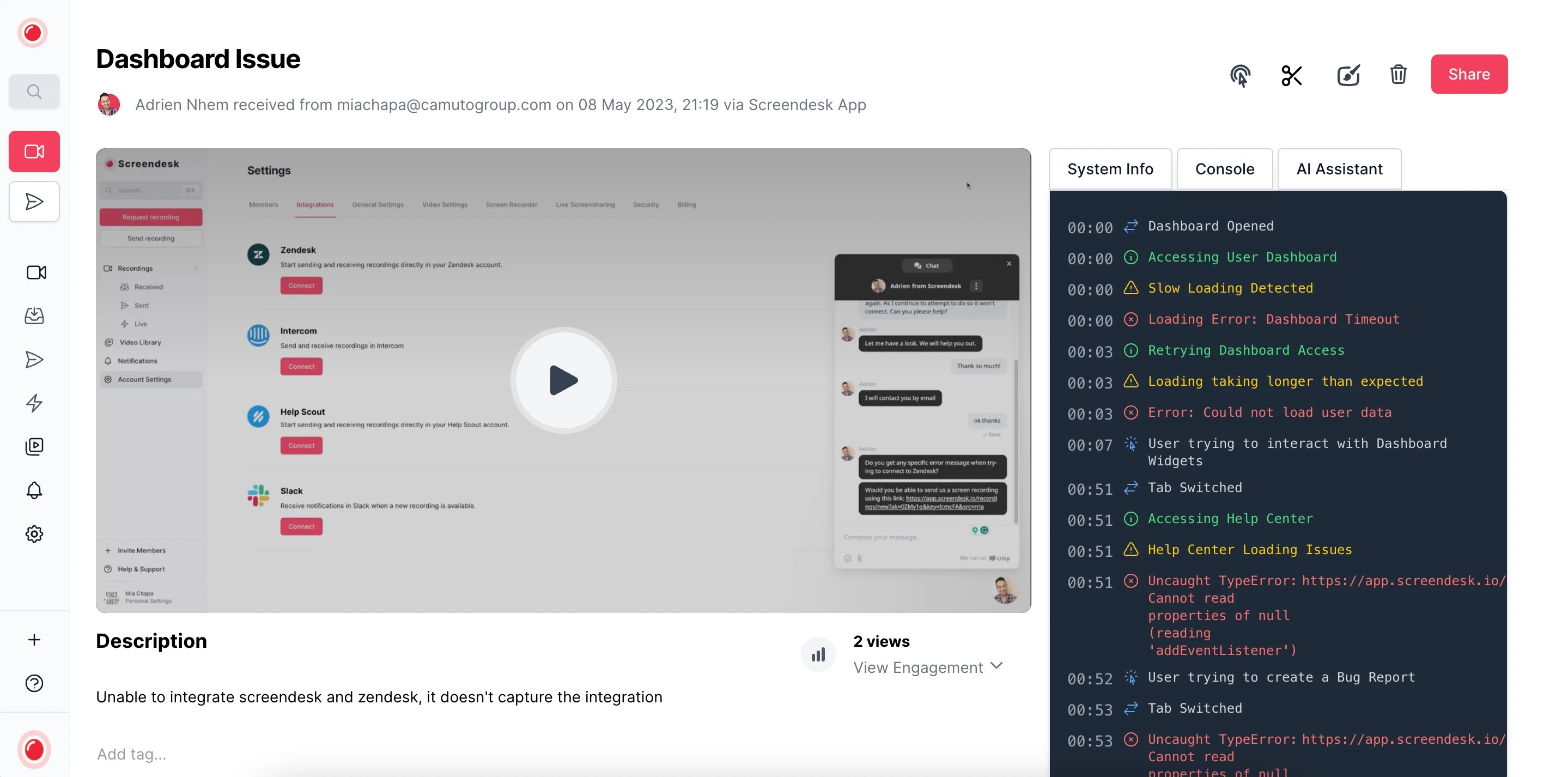 Browser metadata.

All screen recordings include browser metadata like the OS, browser, IP address, Network Speed, and more.

Bug reports.

Screen recordings capture console logs to help your enginnering team debug issues faster.

Hide sensitive data.

Screendesk will automatically hide sensitive data like passwords and credit card numbers when they record their screen.

Video summarization.

Transcribe and summarize screen recordings with AI to help your team triage issues faster.

Embed the recorder.

Embed the recorder on your support docs or in your app to let customers record their screen.

Share with your team.

Use Screendesk to share feedback and troubleshoot problems across internal teams even faster.
Live Video Calls
It's easier to help your customers
when you see their screen
Support agents can offer step-by-step instructions and guide the user through the troubleshooting process, ensuring they're doing everything correctly.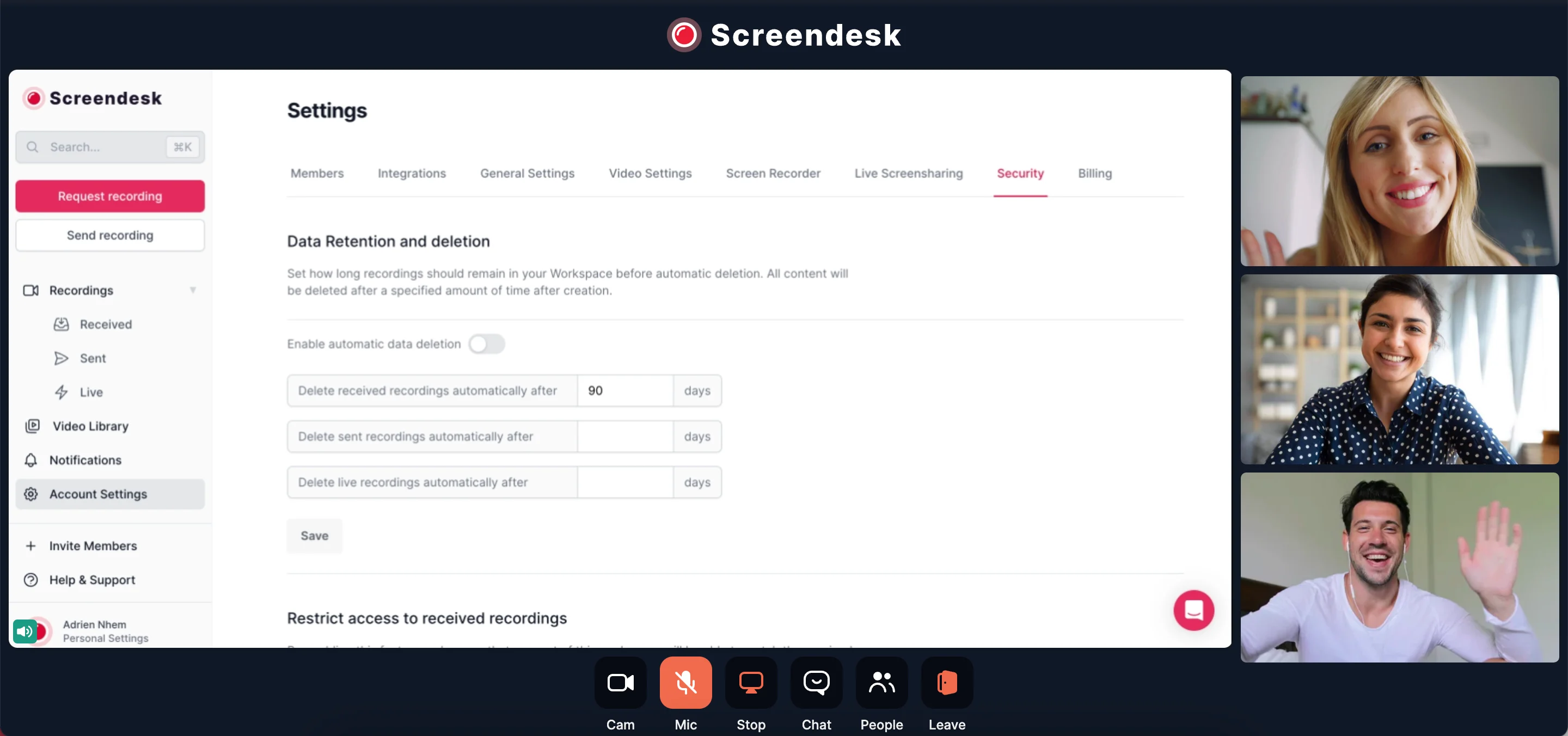 Screen sharing.

Help customers explain themselves better by sharing their screen with you.

Record your video calls.

Train new support agents by sharing recordings of your video calls.

No downloads required.

Jump on a video call with your customers without requiring them or your agents to download anything.
Video Library
Leverage your existing videos
Use ready-made videos to quickly answer common questions, boost team efficiency, and help customers solve problems with easy-to-understand videos in your support guides.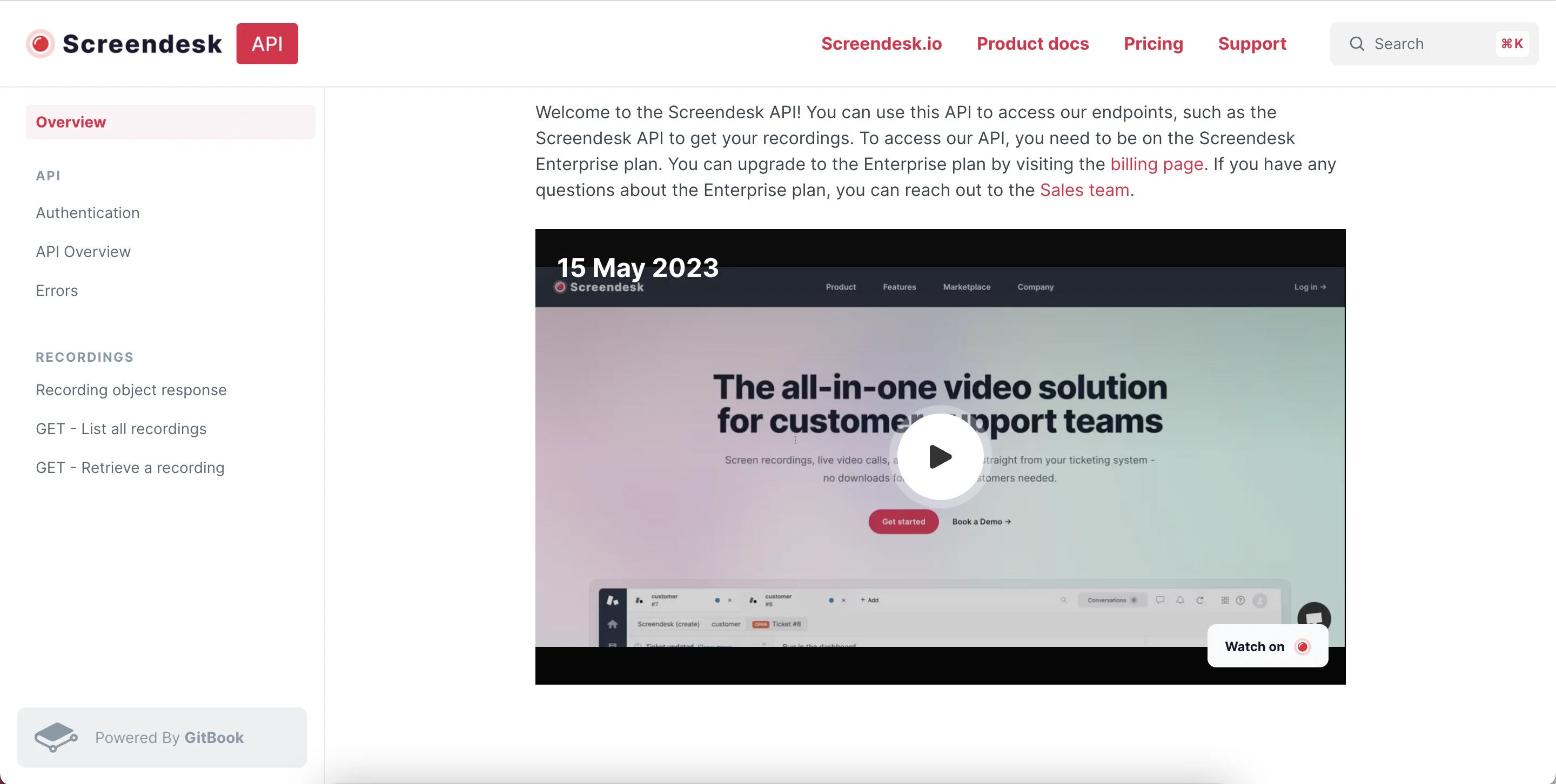 Reply with existing videos in your helpdesk.

No need to switch between apps. Reply to support tickets with videos from your Screendesk library.

Embed videos in your help center.

Say goodbye to long, boring help articles. Embed videos in your help center to make it easier for customers to help themselves.

Call-to-action buttons.

Add links to help articles and other resources from within your video.
Advanced Features
Everything you need to better your customer experience
Role based permissions
Recreate your organization structure and control who can access what
Video editor
Make your videos look professional: trim videos, customize thumbnails, etc
Call-to-actions
Add customizable CTAs to videos to give users an easy path to important resources
Video Analytics
Monitor customer engagement with your videos and receive real-time notifications
Advanced Security
Automate when recordings and sensitive data should be deleted
Custom branding
Customize the look and feel of everything to match your brand
Why Support teams love using Screendesk
This is what you can expect from using our product.
Increase customer satisfaction

17%

Increase first contact resolution rate

53%

Decrease average replies per resolution

-26%

Saved per agent per day on average

1 hour
Testimonials
We have worked with thousands of amazing people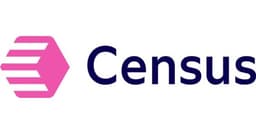 Transform your support experience with Screendesk
Start using Screendesk for free. It only takes a few minutes to get started.